How Does the 2023 Kia Seltos Perform Through Various Road Conditions?
By Product Expert | Posted in Kia Seltos on Sunday, December 18th, 2022 at 9:57 pm
Performance Features of the 2023 Kia Seltos
Is the latest Seltos an all-terrain marvel? Kia has built it to fare spectacularly through various road conditions. The robust chassis works in sync with the powerful engine, with the total output being transmitted with greater ease. Seltos excels at delivering smooth maneuverability on city roads while also maintaining a seamless quality on tougher terrains. Here, we take a deep dive into the performance features of the 2023 Kia Seltos. You can now buy it at Team Gunther Kia in Daphne, AL. Drop by our dealership for a closer look at the new Seltos by taking a detailed tour with one of our executives. Get in touch with us to learn more about the vehicle.
What Has Changed in the 2023 Kia Seltos? 
The standout upgrade of the Seltos is the acoustic windshields that cancels the noise on the interior. Another addition to the lineup is the cross-traffic alert in the S trim, which now comes combined with automated emergency braking and a blind-spot system. It also now receives a 10.3-inch touchscreen with optional navigation.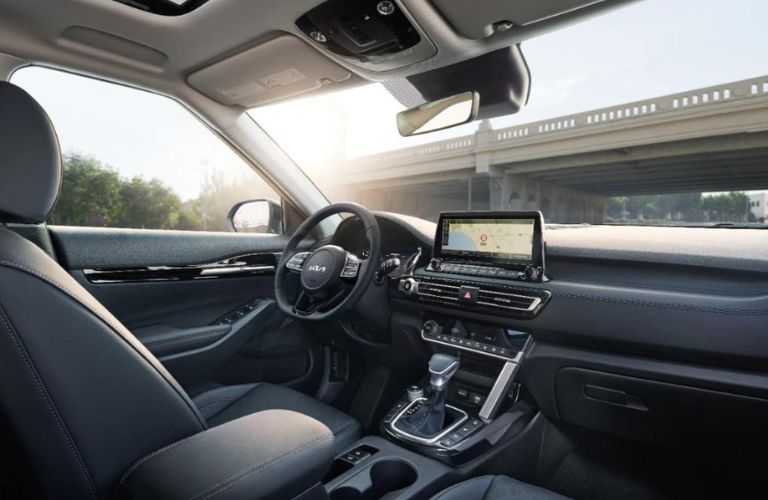 [Read More: What are the Trim Levels in the 2023 Kia Seltos?]
Engine and Transmission in the 2023 Kia Seltos
The 2023 Seltos has a menu of two different powertrain options: a 2.0-liter four-cylinder engine generating 146 horsepower and a turbocharged 1.6-liter variant pumping out 175 horses. While the former pairs with a continuously variable automatic transmission, the latter has been coupled to a seven-speed automatic transmission. On all trims except the S, all-wheel drive is standard. The turbo engine smoothly accelerates from 0 to 60 mph in 6.6 seconds.
---
Have Questions? Call Us
877-885-7998
---
Reserve a Kia in Daphne, AL
Visit Team Gunther Kia to check out the new Seltos and other 2023 Kia models. Also, schedule a test drive with us and reserve the vehicle right away!
How to Navigate an Inventory Crunch for the Best Deals? 
If you are struggling to find the vehicle of your choice due to an inventory crunch, our team can help you circumvent the current crisis to land the best deals. The stocks will soon be replenished. Make sure to check out the trading features to grab the best deal by exchanging your current vehicle.